WE ARE OFFICIAL OXFORD TEST OF ENGLISH EXAM CENTER
With more than twenty years of experience teaching languages and preparing students for official exams, BCN Languages is once again a pioneer as it is an official exam centre for the Oxford Test of English.

This revolutionary test affords you the opportunity to certify your B1 or B2 level more easily and quickly with the official recognition of universities and public entities.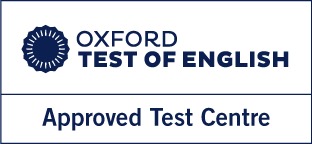 Your Oxford English B1 or B2 certificate has never been so close. Try it!
In order to obtain the certificate it is not necessary to complete a specific preparation course. Simply complete a standard, intensive or semi-intensive English course at BCN Languages and do the Oxford Test of English at the end

WHAT IS THE OXFORD TEST OF ENGLISH?
The Oxford Test of English is the official certificate of the University of Oxford, which certifies your A2, B1 and B2 level. As such, you are afforded:

Your favourite Erasmus destination within the Erasmus+ programme.
A largest possible Erasmus+ grant.

Your SICUE/SÉNECA or conversation assistant grant.
Your B2 certification to get your university degree or to do a Master's degree.

The official University of Oxford certification to add to your CV.
The Oxford Test of English consists in 4 modules: SPEAKING (oral expression), LISTENING (listening comprehension), WRITING (written expression), READING (writing comprehension)

STRUCTURE OF THE TEST
The Oxford test of English has 4 modules:
Listening
Oral comprehension
Reading
Written Comprehension
Writing
Written expression
Adjusted to your needs: Do the whole exam or only the part that you need on one of the many exam dates offered every year.
Reasonable: The Oxford Test of English is cheaper than other English official examinations.

More accurate: The level of difficulty is adapted to your answers. Each exam is unique and personalised!

Fairer: If you don't pass, you can retake each part separately. Moreover, if you decide to do all four of the skills again, you can never get a lower mark, only a higher one.
Quicker: The test lasts only 2 hours and you have your results in 14 days.

Prestigious: Here you can find the list of the numerous institutions that recognise it.

Your certificate reflects:Your mark in each of the skills and your overall mark – in numerical form – and its equivalent in accordance with the Common European Framework of Reference for Languages (CEFR).
The date that you completed each of the tests.
The guarantee and recognition of the prestigious University of Oxford.
An official link where businesses or institutions can see your certificate immediately and online.
.. it can never be lost… it will always be available on the website for you to download.

BCN Languages is an official exam centre for the Oxford Test of English
¡Call your nearest centre for information about the next exam date!
OXFORD TEST OF ENGLISH PRE-INCRIPTION FORM
Fill out the form and we will contact you to formalize the registration