For all CEFR levels
This Standard French course is designed for those people who wish to study French through a very communicative methodology, attending dynamic classes and being monitored and advised at a personalized level.
In order to widen the resources you have to help you cope with communication situations, you have the conversation spaces.
Learn French in Barcelona with BCN Languages!
The French course is imparted in three terms during the nine months of the course's duration. Thanks to a flexible timetable you will be able to study for three hours a week in two weekly sessions or in one session on Fridays or Saturdays. They include the conversation sessions – some hours in the course devoted to improving your ability to speak in highly varied communication contexts.
How can you measure your progress? Standard French courses in Barcelona include an evaluation at the end of each term in which you will be able to read comments by your native teacher telling you which areas you need to improve.

With our communicative focus, native teachers, flexible timetables, supplementary material online, reduced classes with an average of nine students and continuous assessment, all you will need to do is get into the classes, study the syllabus and practice in your free time to acquire a complete language level during the academic year.

You shouldn't worry if due work, studies or your general situation you need to miss certain classes as you will be able to recover classes*, as long as they are in the same week, in any of our centres in Barcelona. You will also have free access to the Virtual Campus, where you will be able to follow the syllabus and any homework set as well as being able to access supplementary exercises.
To take advantage of our offers and enroll on one of the Standard French courses in Barcelona is to take the written level test (be this online or in one of our centres) and the oral test (only in our centres). It is not necessary to reserve a time. Once we know your overall level we will be able to enroll you on the course. We're waiting to hear from you!
*consult availability at your school
Calendar
The courses start in October. Students can join throughout the course. Absolute beginners should consult the starting dates.
9 months from October to June
French course of 3 hours a week to choose between Monday and Wednesday or Tuesday and Thursday. We also offer sessions of 3 hours in a row on Friday or Saturday morning.
Course Hours
Choose your days
Level list
We have all levels to learn French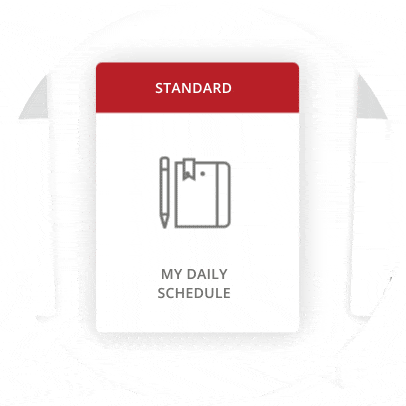 Learning 360º
Change classes whenever you want, whenever you need
We offer you a different methodology, to learn in a more effective and immersive way. Choose one type of class and change to another when necessary, without additional costs. Totally to your measure.
You can start now, contact us
Ask about our courses and any other questions you may have.
In many cases, it is possible to join throughout the course.