Get a level in 8 weeks
The French semi-intensive course in Barcelona is designed for all those who want to achieve a language level, refresh their forgotten knowledge or keep making farther progress in learning French.
The programme of this course consists of two blocks:
A first block, Block A, which is complete; in other words, all types of tasks are performed – writing, listening, oral and reading (48 hours).
The Semi-intensive French courseplanning includes 48 hours and it spans over two months during which our native teachers, using a highly communicative approach, provide you with grammar and vocabulary tools you are going to put immediately into practice in open class so you can consolidate your newly achieved knowledge.
And a second block, Block B, which is more specific in that only oral tasks are performed for the groups from B1 on. At BCN Languages, we offer you all our resources so you can achieve a high level of French in record time!
The aim of this semi-intensive French course is for the student to pass a level quickly. It is very important that students do the homework if they wish to pass a level. They will thus have more frequent contact with the language.
For this objective, there are 48 hours of classwork in Block A, studied in 3 sessions of 2 hours in the morning or 4 sessions of 1.5 hours in the afternoon. This represents a total of 6 hours per week over 8 weeks.
The hours pertaining to Block B, which are of conversation, may be taken over 2 months from the start of the course.
Over these months you'll share this course with a small group of classmates (7 students of average) therefore you can interact and practice more all you've had learnt.
Before the enrollment in this Semi-intensive French course in Barcelona it is necessary for you to take a written and oral test so we can accurately determine your actual global level.
Furthermore, just because we want you to ensure your studies are progressing, we also provide you free services as DVD's, graded readings at the library and access to the Virtual Campus where you can find extra exercises and activities.
Don't miss the opportunity to improve your grammar and vocabulary with a communicative method and with your native teacher in Barcelona.
Calendar
The courses start every month all year long (exept in Gracia school where are offered in May, June, July, August and September)
MORNING COURSE: 2 h Monday, Wednesday, Friday // 2 h Tuesday, Wednesday, Friday - EVENING COURSE: 1,5 h de Monday until Thursday
Course Hours
Choose your days
Level list
We have all levels to learn French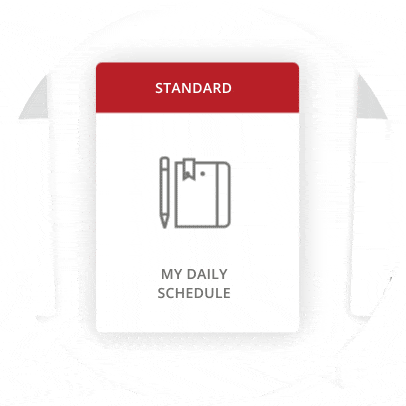 Learning 360º
Change classes whenever you want, whenever you need
We offer you a different methodology, to learn in a more effective and immersive way. Choose one type of class and change to another when necessary, without additional costs. Totally to your measure.
You can start now, contact us
Ask about our courses and any other questions you may have.
In many cases, it is possible to join throughout the course.