One level for each course
At BCN LANGUAGES we've designed this Standard English course aimed at enabling you to advance one level in the nine months the course lasts, by practicing the skills of the language according to the Common European Framework: reading comprehension, listening comprehension, written expression and oral expression and interaction.

You can learn English in Barcelona with dynamic and enjoyable classes. The standard English course consists of communication grammar classes and conversation spaces that will give you greater fluency and provide you with backup.

At the end of your B1, B2 or B2+ course you will have the chance to have your level certified by Oxford University Throught the Oxford Test of English.
Standard English courses are taught by our team of native English teachers. Classes have an average of 7 students.

In the English course, we've included the Conversation Sessions, a space where you can put all your skills into practice in an entertaining way and you'll enjoy learning and talking about endless subjects.
In order to evaluate your English level you will have to do a level test, which is in two parts, written and oral, we will use this to assess your overall level. Once you have completed both tests you will be able to enrol on a course. Do the test level.

Standard English courses in Barcelona also include these additional services free of charge*:

Access to computers and the internet.

Access to the Virtual Campus with supplementary material.
Daily access via the Virtual Campus to the syllabus and homework set in class.

Recuperation of classes. If you miss a class you can catch up by attending another class the same week.

A library service where you can borrow DVDs and graded readers.

A language exchange.

Learn and have fun with your English course in Barcelona!!
*consult availability at your school

Calendar
The English course starts in October, but you can register in any moment. Students at levels A1 should check the incorporation dates.
Standard course has an extension of 9 months, from October until June
English course of 3 hours per week in 2 sessions on alternate days (Monday-Wednesday or Tuesday-Thursday) or in one weekly session (Friday or Saturday).
Course Hours
Choose your days
Level list
We have all levels to learn English
* Price with Oxford Test of English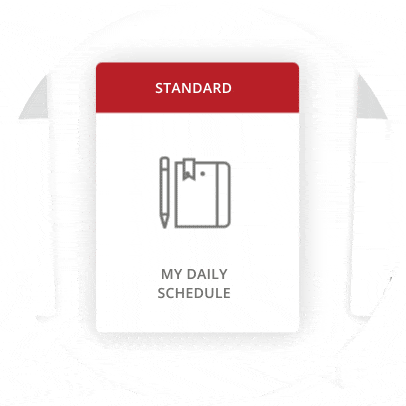 Learning 360º
Change classes whenever you want, whenever you need
We offer you a different methodology, to learn in a more effective and immersive way. Choose one type of class and change to another when necessary, without additional costs. Totally to your measure.
You can start now, contact us
Ask about our courses and any other questions you may have.
In many cases, it is possible to join throughout the course.