French for day to day
If you want to speak better French, with more fluency and the right terminology for the communication situation, these spaces will help you to do so. You'll have the opportunity to apply the skills you've acquired in the French courses to your real-life situations, whether relating to work, leisure, family or friends.
This french conversation course in Barcelona gives you the freedom to choose when you want to start, how often you want to do them, the days of the week and the part of the day.
The programme of the French conversation course is made up of oral practice sessions where activities and simulations are used to work on the cultural aspects of French-speaking countries and to talk about current issues in order to practise the structures, vocabulary and expressions learned.
The French conversation spaces offer 10 hours of conversation over a maximum of 3 months, where you'll acquire and practice your skills in a pleasant atmosphere, you'll make progress without realising it and also, thanks to our team of native French speakers, you'll be exposed to different accents. There will be no more than 7 people of average in each class.
Your conversation spaces in French will be taken when you want and in the school you want. You'll have two options for booking your sessions: from your mobile using the app and from your computer through the BCN Languages website. Always with a personalised username that will give you access to all the available subjects, days, times and schools. You'll also be able to manage changes and consult your calendar of sessions
For you to be able to enrol on the French Conversation spaces in Barcelonawe first need to know your overall level. This will be the result of the level tests, written and spoken, that you need to complete before enrolment. The minimum level required for this course is B1.
So as to be able to continue practising and improving your language skills outside of class you will be able to enjoy the free loan of DVDs and books in French, which you will find in our library. And if you wish to practice in a more direct and comfortable way, you can access our Virtual Campus free of charge where you will find supplementary material. Have fun learning French and progress at the same time!

Calendar
Whenever you choose, throughout the year
Up to 9 months from your first day
Course Hours
Choose your days
Level list
We have all levels to learn French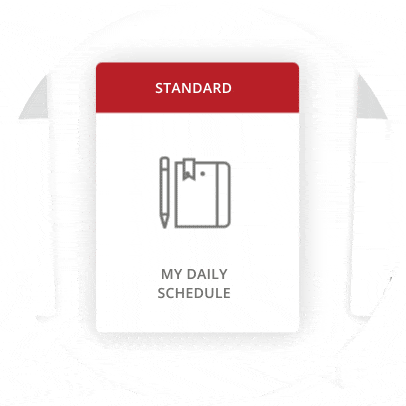 Learning 360º
Change classes whenever you want, whenever you need
We offer you a different methodology, to learn in a more effective and immersive way. Choose one type of class and change to another when necessary, without additional costs. Totally to your measure.
You can start now, contact us
Ask about our courses and any other questions you may have.
In many cases, it is possible to join throughout the course.