For beginners or advanced levels
Our French course in Barcelona is ideal for both beginners and people who want to acquire a level higher than the one they have and continue progressing with their studies. The course is studied in 4 weeks and a full level is obtained. All the skills are studied intensively, and it's composed by two blocks, A and B.
In Block A, the emphasis is placed on the entire language and tasks are performed which may relate to any of the language skills. (40 hours).
In Block B the emphasis is placed on the oral part of the language and there are only conversation tasks. Designed for levels B1 to C2.
The intense French courses are programmed into two blocks. There is a main block, Block A, which consists of 10 hours per week, taught in sessions of 2.5 hours from Monday to Thursday by native speaking teachers who will help you learn in an enjoyable and effective way.
There is another block, Block B, which includes hours of oral practice that may be studied over two months from the start of the intensive course. This is the block in which the tasks focus on oral practice of the structures, vocabulary and concepts learned during the course.
During the four weeks of the Intensive French course you will share the course with your class colleagues, and thanks to having an average class size of 7 students you will be able to enjoy pleasant classes as you will be able to interact, and as such, practice, much more.
Before enrolling on your Intensive Standard French course you have to take a written and oral test where we will determine your current overall level. Once these are completed you will be able to enroll. And so that you see that we really want you to practice and advance as much as you propose to yourself, at your disposal we also have DVDs and graded readers in French for loan free of charge.
In addition to this we add free access to the supplementary activities and exercises available on our Virtual Campus. Take advantage and start to learn or revise grammar in a communicative way!
Calendar
The courses start every month all year long
10 hours per week. 2,5 hours from Monday to Thursday
Course Hours
Choose your days
Level list
We have all levels to learn French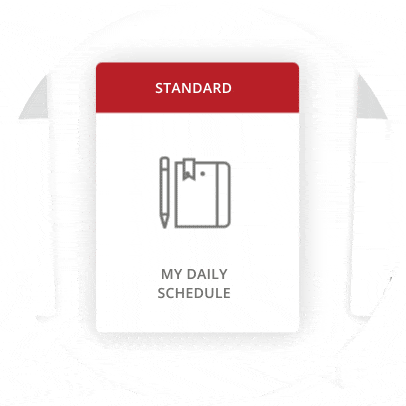 Learning 360º
Change classes whenever you want, whenever you need
We offer you a different methodology, to learn in a more effective and immersive way. Choose one type of class and change to another when necessary, without additional costs. Totally to your measure.
You can start now, contact us
Ask about our courses and any other questions you may have.
In many cases, it is possible to join throughout the course.