For beginners or to improve the language
If your objective is to begin, revise or to continue learning a language, the Intensive will permit you to do so with a balanced program of communication, using a dynamic method of teaching which is adapted to current needs. Our courses are based on programs that guarantee progress. This Intensive Catalan course allows you to develop fluency and communicative interaction as well as improving your grammar when speaking and your pronunciation.
With the Catalan course you will widen your vocabulary on different topics and you will improve your use of the linguistic structures necessary to interact in Catalan in everyday life, and develop the necessary strategies to exchange opinions, put forward arguments and converse in formal situations with complex vocabulary.

You can join one of our intensive courses any month of the year, following a morning or afternoon timetable. Its intensity is 2,5 hours per day from Monday to Thursday with a length of 4 weeks. Our Catalan intensive course includes two conversation classes on an issue of current interest so you can practice in a more fluent way your speaking and interaction skills.

To register on the Catalan course in Mallorca you only need to do our online Catalan level test and another free oral test without obligation, and enrol in the timetable you wish. People with beginner's level don't need to do this test to sign up for our Catalan courses.

All our teachers are native and with specific training in the teaching of Catalan as a foreign language. We apply a communicative methodology as we think that speaking is the basis of learning a foreign language. Two days are dedicated exclusively to the conversation, so you'll get more fluency and confidence when speaking Catalan. In addition, all our groups are small, with a maximum of 9 people.

When doing an intensive course you will be able to use all the resources which the school offers to complement your studies: the loan free of charge of films, the loan free of charge of books adapted to different levels, daily newspapers and reference material available in the students' common room in the centre.

Calendar
The courses start every month all year long (exept in August)
10 hours per week. 2,5 hours from Monday to Thursday
Course Hours
Choose your days
Level list
We have all levels to learn Catalan
*Consulta disponibilidad en tu centro más cercano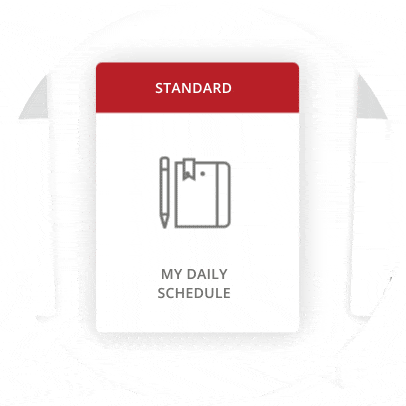 Learning 360º
Change classes whenever you want, whenever you need
We offer you a different methodology, to learn in a more effective and immersive way. Choose one type of class and change to another when necessary, without additional costs. Totally to your measure.
You can start now, contact us
Ask about our courses and any other questions you may have.
In many cases, it is possible to join throughout the course.