Extensively improve your knowledge of Spanish

The Extensive Spanish Courses are ideal for foreigners who live, study or work in Spain and wish to improve their knowledge of Spanish in a short time.
The Standard Spanish Course integrates grammar, vocabulary, listening and reading comprehension, and written and spoken expression.

Our approach to teaching and learning Spanish is based on the communicative method and puts the student at the centre of the class, continuously involving him/her in the grammatical reflections and oral practice for content consolidation.
The groups are small, never more than 13 students, to ensure intense practice of the language and individual monitoring of each student. All of the students enrolled in each group must first take a level test (except for complete beginners).

The Spanish level test is free with no obligation and includes a written part (website) and an oral part (at the centre). This test guarantees that each group has the same level.

With these extensive Spanish courses, the syllabus for one level of Spanish is completed in 3 months (with the exception of absolute beginner level which is completed in 6 months): from October to December, January to March, and April to June. At the end of the course, the student is given a diploma certifying his/her command of the language in accordance with the CEFR descriptors.

The standard Spanish course is complemented with free extra services* for the students: self-study grammar exercises, lending of suitable reading material for each course and lending of original version films subtitled in other languages.
*consult availability at your school
Course Hours
Choose your days
Level list
We have all levels to learn English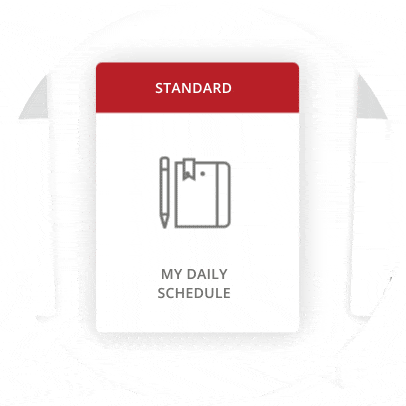 Learning 360º
Change classes whenever you want, whenever you need
We offer you a different methodology, to learn in a more effective and immersive way. Choose one type of class and change to another when necessary, without additional costs. Totally to your measure.
You can start now, contact us
Ask about our courses and any other questions you may have.
In many cases, it is possible to join throughout the course.