An academic course in only 8 weeks
Semi-intensive English course in Palma de Mallorca contents lexicons work intensively and grammar of a level equivalent to one academic year of 9 months in just two.
Work all the linguistic skills based on communicative methodology. Block A, the student can acquire more oral fluidity with Block B and more written fluidity with Block C.
After finishing the parts of your course, take the Oxford Test of English and recieve an offical English Certificate.
The Block A schedule is spread over 48 hours: an option of 6 hours weekly spread over 3 sessions of 2 hours in the mornings (Monday, Wednesday and Friday or Tuesday, Wednesday and Friday); and another option of 6 hours per week spread over 4 sessions of 1.5 hours in the afternoons (Monday to Thursday).
The 9 hours that make up Block B may be taken with the frequency and intensity you choose within the 2 months following the first day of classes.
In Block C, students have 17 hours' access to the platform, to be taken in a maximum of 8 weeks.
Our school has a team of native-speaking teachers who will help you to improve your level in an enjoyable and varied manner, thanks to the communication methodology they use to teach the classes.
Everything will be much easier for you, as the groups are small and the teacher will be able to give you more personal monitoring.
All you need to do in order to enrol on this semi-intensive English course in Palma de Mallorca is to take the written level test through the website and then the oral exam.

Once you've enrolled, you'll be able to enjoy our service of free materials and spaces: books and films from the library, access to the Virtual Campus and computers in our study room.
Calendar
Every month throughout the year
MORNING COURSE: 2 h Monday, Wednesday, Friday // 2 h Tuesday, Wednesday, Friday - EVENING COURSE: 1,5 h de Monday until Thursday
Course Hours
Choose your days
Level list
We have all levels to learn English
* Bi-monthly price with Oxford Test of English.
In-class, conversation, Online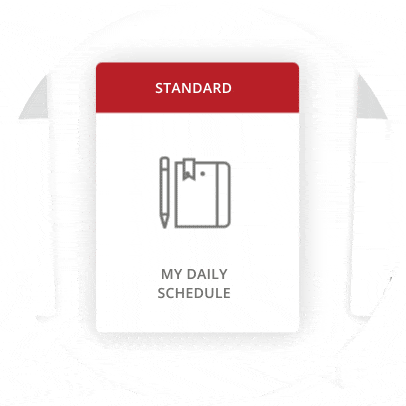 Learning 360º
Change classes whenever you want, whenever you need
We offer you a different methodology, to learn in a more effective and immersive way. Choose one type of class and change to another when necessary, without additional costs. Totally to your measure.
You can start now, contact us
Ask about our courses and any other questions you may have.
In many cases, it is possible to join throughout the course.